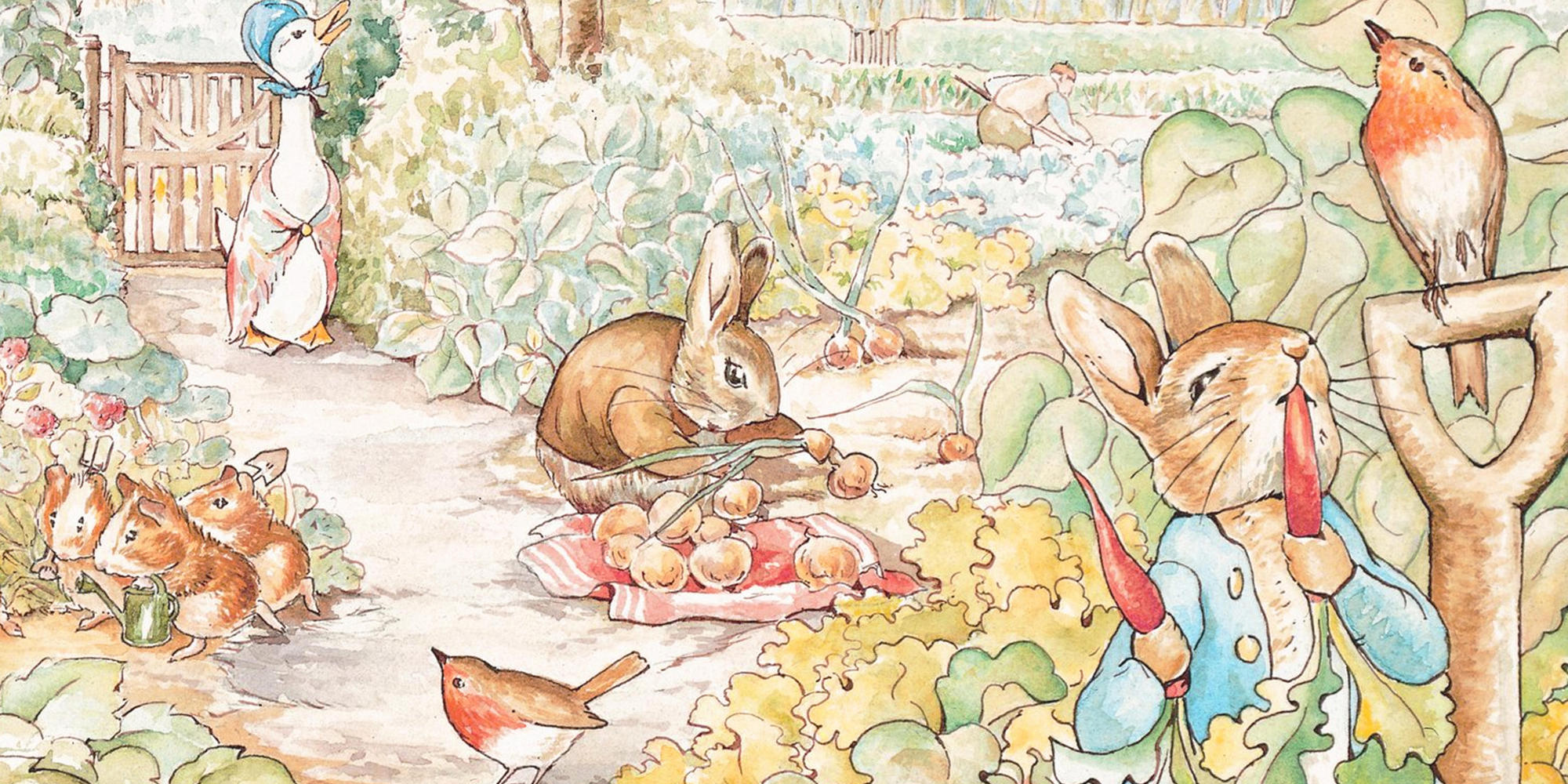 A look at Beatrix Potter
David Stuart Davies looks at the work of the author of some of the most popular children's books ever written.
Anthropomorphism is the attribution of human characteristics to animals or even inanimate objects. As a form of literary device, it has been around for aeons. Examples can be found in the Bible for example and, of course, in Aesop's fables. As a form of structured fictional entertainment, it grew in popularity in the 19th Century, with many writers using the format for children's tales and for satire. What were the tales of the Brothers Grimm (1812), Alice's Adventures in Wonderland (1865), The Adventures of Pinocchio with Jiminy Cricket (1883) and The Jungle Book (1894) amongst others. Moving into the 20th Century we had Mole, Ratty and Mr Toad in Wind in the Willows (1908), along with that honey-loving bear Winnie the Pooh and, of course, there were those delightful works of Beatrix Potter. She had a wonderful knack for giving the character of her creatures very human traits while at the same time allowing them to maintain their essential animal characteristics.
Helen Beatrix Potter (1866 – 1943) was born into an upper-middle-class household. Her parents were somewhat aloof and had their daughter educated by a governess rather than allowing her to attend the local school and mix with the other children. As a result, Potter grew up isolated, without friends of her own age. She devoted her free time to looking after her pets and observing nature in the nearby fields and woods. Potter's artistic and literary interests were deeply influenced by fairy stories and fantasy. She was a lover of the tales of Hans Christian Andersen and Charles Kingsley's The Water Babies (1863). Before the age of eight, she had devoured Edward Lear's A Book of Nonsense (1846) including the much-loved tale The Owl and the Pussycat. All these anthropomorphic narratives influenced her when she began to write and illustrate her own stories.
She also developed an interest in art and in her teenage years was a regular visitor to the picture galleries of London. Eventually, she combined her love of nature and animals with that of sketching and began creating her own fantasy tales. In her thirties, Potter took a brave step and self-published The Tale of Peter Rabbit (1902), which became a best seller. Beautifully illustrated by the author, it is a wonderfully simple tale of a naughty young bunny who disobeys his mother and risks entering the forbidden territory of Mr McGregor's garden. In his endeavours, Peter finds himself in a series of narrow scrapes but like all charming stories, a happy ending is assured. Following the success of this little tale, Beatrix Potter began writing and illustrating children's books full time.
The following year under the editorial supervision of Norman Warne Porter she produced the Tale of Squirrel Nutkin and The Tailor of Gloucester.  These were longer and more ambitious ventures than that of Peter Rabbit, but again in the Nutkin story, her central character is another naughty youth whose reckless behaviour causes him to lose his tail. The Tailor of Gloucester is a much gentler piece which features two mice who help the title character complete a waistcoat for the town's mayor after they have been rescued from the clutches of a cat by the tailor.  Twenty more books followed at the rate of two or three a year. A woman of unusual entrepreneurial genius, Beatrix Potter also registered a Peter Rabbit doll in 1903 recognising that spin-off merchandise such as paintings, board games and printed wallpapers would be a marketing asset for her work.
In 1905 Beatrix and her publisher Norman Warne became officially engaged but Potter's parents objected to her engagement because he was in trade. Sadly, he died of leukaemia a month before the wedding.
The money she had earned from her writings allowed Potter to buy a farm – Hill Top – in the Lake District where she later became a successful farmer.  In 1913, at the age of forty-seven, she married William Heelis, a respected local solicitor from nearby Hawkshead. As her farming and family responsibilities grew, she began to write less and her animal fables appeared more infrequently. Her last book in this series, The Tale of Little Pig Robinson was published in 1930.
Beatrix Potter died of pneumonia and heart disease in December 1943. Upon her death, she left fourteen farms and over 4000 acres of Lake District farmland to the National Trust. However, by this time the whole world knew and loved the tales and the animal characters she had created, which still continue to fascinate and thrill young readers. The wonderful combination of clear, deceptively simple storytelling and the beautiful illustrations which aid the reader's imagination assure that the tales are timeless.
For more information about Beatrix Potter, visit The Beatrix Potter Society
Hill Top Farm is now a museum which is full of the author's memorabilia and kept, as the publicity blurb notes, 'as if Beatrix had just stepped out for a walk.' Potter's books and related merchandise continue to sell throughout the world in many languages with her stories being retold in songs, films, ballet and animations. Her own story has been dramatised for the screen on two occasions. In 1982 the BBC produced The Tale of Beatrix Potter, a biographical drama written by John Hawkesworth featuring Holly Aird and Penelope Wilton as the young and older Potter. In 2006 a movie presenting a version of the author's life, slightly sanitised or, if you prefer, romanticised, was made focusing on her early career and her romance with Norman Warne (Ewan McGregor). Potter was portrayed by Renee Zellweger.
Such is the power and hold that these stories have on the public imagination and the life of their creator, I am sure there will be more films and television productions sampling her life and her fiction. However, as always, the point I make in all my little sermons on this site, is that for the real McCoy, go back to the source. Pretty film and TV pictures are fine, but the true magic lies in the original text and those delightful illustrations.
The Wordsworth editions, The Beatrix Potter Collections Vol 1 & 2, are a brilliant entrée to Beatrix Potter's world. With suitable large text and original drawings, they bring her magical anthropomorphic world to life. Ideal for the innocent youngster but also a kind of dream-like balm for more wearied souls, allowing us to escape reality to the land of the nursery again.
For more information about Beatrix Potter, visit The Beatrix Potter Society
Main Image: A vintage Beatrix Potter illustration Credit: Keith Corrigan / Alamy Stock Photo
Images in text:
1: Credit – PA Images / Alamy Stock Photo
2: Credit – TravelibUK / Alamy Stock Photo
Books associated with this article