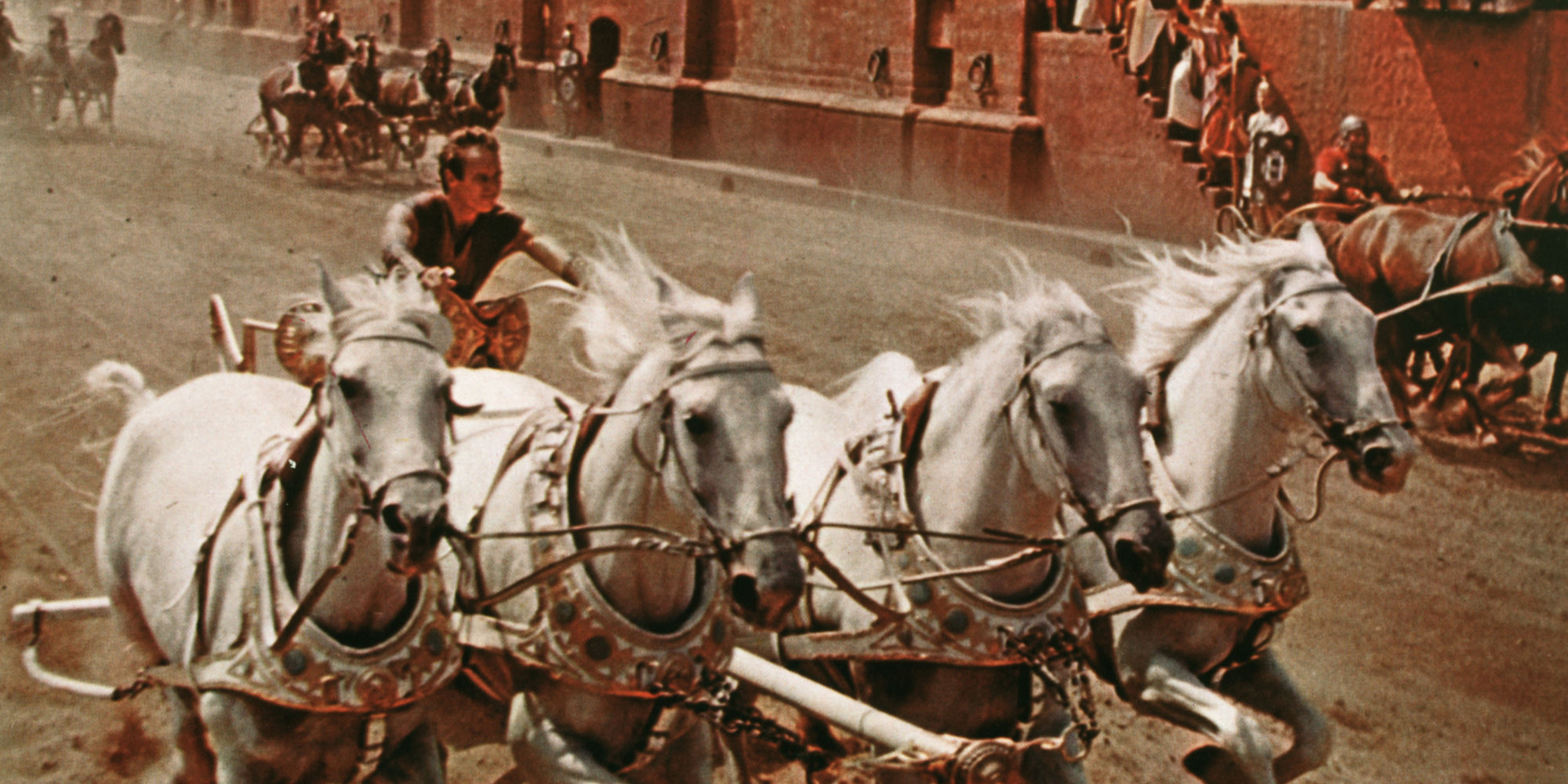 The Book behind the famous film: Ben Hur
Ben Hur. David Stuart Davies looks at the book behind the famous film.
While the novel, Ben Hur: A Tale of Christ, has been called 'the most influential Christian book of the nineteenth century', it is now mainly remembered by modern readers because of the celebrated 1959 movie starring Charlton Heston. However, by contrast, the author, Lew Wallace (1827 – 1905), is one of the forgotten American scribes. Wallace was a remarkable individual who wore many hats in his lifetime: he was a lawyer, a Union general in the American civil war, governor of New Mexico, a politician, and a diplomat as well as finding time to write books.
Ben Hur, published in 1880, was partly inspired by Wallace's love of romantic novels including those written by Sir Walter Scott and Alexandre Dumas. However, the mainspring for his biblical epic came from a conversation he had with a fellow soldier, Colonel Roger G. Ingersoll, a well-known agnostic. The two men debated religious ideology and Wallace came to realise how little he knew about the history of Christ and this prompted him to carry out research to find out more. His studies inspired him to create a novel around the life of Jesus. However, Wallace was well aware that the Christian world would not tolerate a novel with Jesus Christ as its hero. In his memoirs, he stated that he knew that Jesus, 'should not be present as an actor in any scene of my creation. I would be religiously careful that every word stated should be a literal quotation from one of his sainted biographers.'  And so he began to weave an exciting tale set at the time of Jesus in which he makes occasional 'guest appearances'. On publication, this original blend of biblical scenes and figures from The New Testament with Wallace's fiction was a great popular success.
The story concerns Judah Ben-Hur, head of a rich Jewish family who is arrested after being accused by his former friend Masala of attempting to assassinate the new governor of Jerusalem. Rather like Dumas' character the Count of Monte Cristo, Ben Hur's fate ensures that he loses everything. He is sentenced to life on the galleys on a slave ship, his fortune is confiscated, and his mother and young sister, Tirzah, are walled up in a forgotten prison cell where they contract leprosy. The novel concerns Ben Hur's escape during an exciting chariot race, his revenge on Masala before beginning his search for his mother and sister and their miraculous cure by Jesus Christ.
One of the most impressive aspects of the novel is the power of Wallace's storytelling and his ability in clear, fresh unfussy prose to bring a vivid immediacy to the narrative. There is none of the verbose stuffiness that one finds in some Victorian novels. Here there is a vibrancy of style that was well ahead of its time. Wallace's research into his subject ensures that he captures the ethos, customs and essence of this period of the ancient world.
It is said that Wallace copied the final manuscript of the novel in purple ink as a tribute to the Christian season of Lent before presenting it to the publisher Harper and Brothers. At the time the idea of portraying Christ and the crucifixion in a fictional novel was a sensitive one. Wallace's depiction could have been considered by some as blasphemy but the quality of the manuscript and his assurance that he had not intended to offend Christians, allayed the publishers' reservations. Indeed, Harper and Brothers stated that 'it was the most beautiful manuscript that has ever come into this house.'
Remarkably the novel's initial success led to its popularity as a promotional tool and a prototype for popular cultural merchandising. And soon there were Ben Hur toiletries, bicycles, cigars, clocks and hair products.
The novel became so popular that towards the end of the 19th century there was a demand for it to be adapted for the stage but Wallace resisted, arguing that no one could appear as Christ on stage. However, he eventually relented and it the play opened on Broadway in 1899 with Jesus Christ being portrayed by a bright beam of light.
As early as 1907 there was a film version of the novel and since then there have been numerous movies bringing this visually exciting tale to the screen. The 1927 silent feature, starring Ramon Navarro, is remarkably spectacular. The chariot race, filmed without the aid of special effects, is still amazingly thrilling when viewed today. So prestigious a production was this movie that many of the great stars of Hollywood agreed to appear as extras in crowd scenes; these included John Barrymore, Douglas Fairbanks, Mary Pickford, Joan Crawford, Harold Lloyd and Myrna Loy amongst others.
It wasn't until 1959 that Hollywood returned to the novel to present a widescreen colour version of Wallace's epic. Charlton Heston took on the title role, after such stars as Kirk Douglas, Rock Hudson, Burt Lancaster and Paul Newman had turned it down. It was still considered controversial to portray Christ on screen and some considered that appearing in such a movie could damage their career. The film was a great box office and artistic success, winning an unprecedented eleven Oscars. It was directed by William Wyler although the chariot race was actually filmed by second unit directors Andrew Martin and Yakimo Canutt and it took three months to complete shooting this sequence.
In more recent times there was an animated direct-to-video version in 2003 featuring the voice of Charlton Heston and in 2009 there was even a spectacular stage presentation at the O2 Arena in London, which included a sea battle, gladiatorial combat and the chariot race. A new movie,  'a reimagining' of the original novel, was released by MGM in 2016 with Jack Huston as the hero. In general, the critics gave it the thumbs down, comparing it unfavourably with the 1959 film.
It is true to say that no matter how successful or otherwise the various screen versions of Ben Hur are, they inevitably fail to capture the full power of this long novel, which in the process of adaptation requires the editing of some elements of the plot. In order to enjoy the full spread and vivid viewpoint of Lew Wallace's story, one must return to the book.
Image: Still from the 1959 film Ben-Hur, starring Charlton Heston and directed by William Wyler
Credit: Photo 12 / Alamy Stock Photo
Books associated with this article