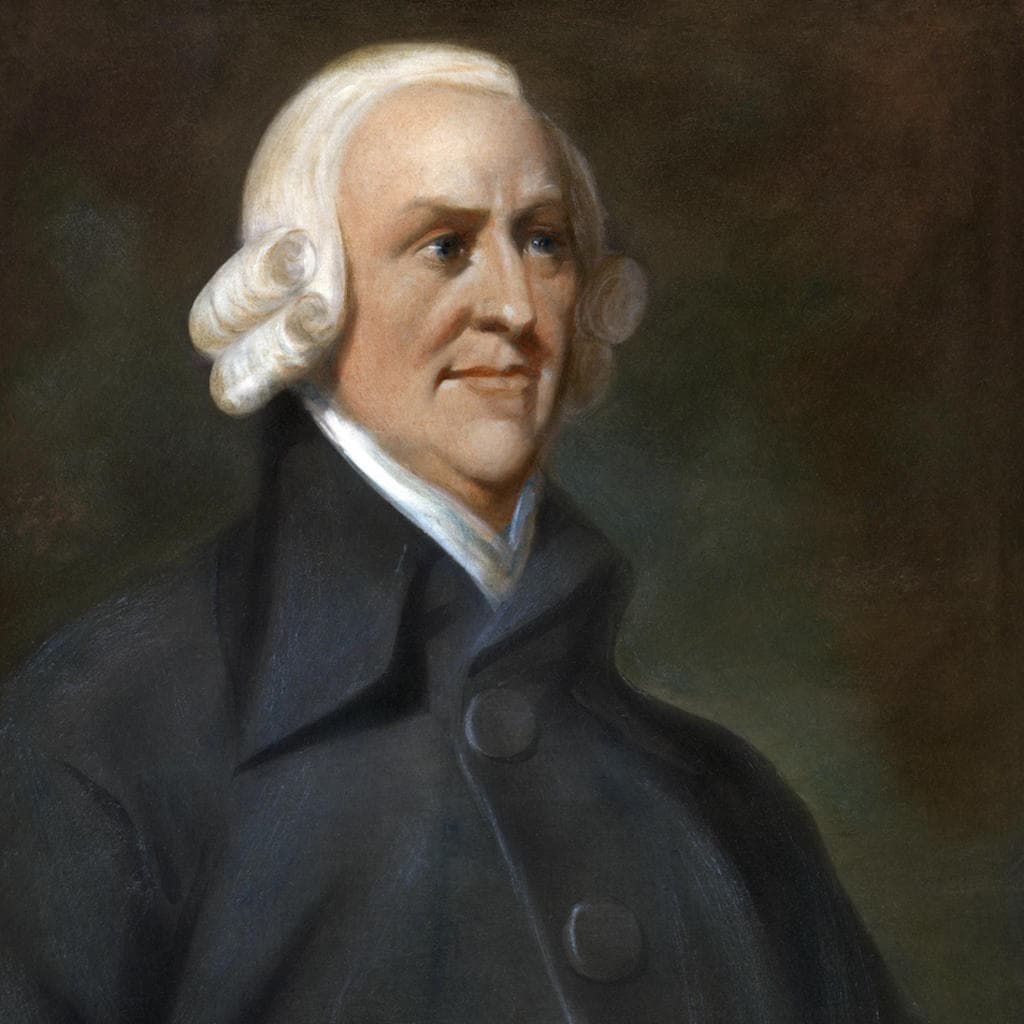 1723-1790
Scottish
No society can surely be flourishing and happy of which by far the greater part of the numbers are poor and miserable.
Adam Smith
Adam Smith (1723-1790) was a Scottish historian, political economist, writer, rhetorician, astronomer, and social philosopher, who wrote 'The Wealth of Nations'. It is considered the first book of modern political economy, and still provides the foundation for the study of that discipline.
Adam Smith was born in 1723 in Fife, Scotland. The actual date of his birth is not confirmed, but it is known that he was baptised on 5 June 1723 in Kirkcaldy, Scotland. His parents were Margaret Douglas and Adam Smith, a lawyer and civil servant. Adam Smith Senior was a widower who married Margaret Douglas in 1720. He died just two months after his son's birth.
Little is known about Smith's early life. The Scottish journalist John Rae, who was Smith's biographer, wrote that Smith was abducted by gypsies at the age of four and released when others went to rescue him. Smith attended the Burgh School of Kirkcaldy from 1729 to 1737, where he studied Latin, mathematics, history and writing.
Smith attended the University of Glasgow at the age of fourteen to study moral philosophy, and later studied social philosophy at the University of Oxford in 1740. Whilst at Oxford, Smith taught himself several subjects by reading books from the library. Smith's letters reveal that his time at Oxford was not entirely happy. Towards the end of his time there, Smith began to suffer from shaking fits, possibly the symptoms of a nervous breakdown. He left Oxford University in 1746, before his scholarship ended.
Following his departure from Oxford, Smith delivered a series of lectures in Edinburgh. These lectures proved successful and led to collaboration with David Hume in 1750. Smith's and Hume's writings covered history, politics, philosophy, economics and religion.
In 1751, Smith took on a professorship at the University of Glasgow, teaching moral philosophy, taking over the post of Head of Moral Philosophy in 1753. It was during his time at Glasgow that Smith wrote and published The Theory of Moral Sentiments (1759), which embodied some of his Glasgow lectures. He continued to make extensive revisions to the book up until his death. Smith worked as an academic for a number of years, calling it, by far the most useful and therefore by far the happiest and most honourable period of his life.
The publication of The Theory of Moral Sentiments led to a popularity for Smith that resulted in students from other countries coming to Glasgow to study under him. The University of Glasgow bestowed on Smith the title of Doctor of Law in 1762. In 1763, Smith was offered a position by British politician Charles Townshend to tutor his stepson Henry Scott, Duke of Buccleuch. Smith took up the offer, resigning his professorship in the middle of a term. The tutoring position with Scott allowed Smith to travel throughout Europe, where he met other intellectual leaders of his day, and also doubled his former income as a teacher.
In 1766, Henry Scott's younger brother died in Paris, and Smith's tour of Europe as a tutor ended shortly after. Smith returned home that year to Kirkcaldy, and spent the next ten years writing The Wealth of Nations. The book was published in 1776 and was an instant success, selling out its first edition in only six months. The Wealth of Nations is widely regarded as Smith's most influential work, although Smith himself considered The Theory of Moral Sentiments to be the superior of the two works.
In 1778, Smith became commissioner of customs in Scotland and went to live in Panmure House, in Edinburgh's Canongate with his mother, with whom he had a close relationship,. Five years later, he became one of the founding members of the Royal Society of Edinburgh, and from 1787 to 1789 he occupied the honorary position of Lord Rector of the University of Glasgow.
Smith, who never married, was described as an odd-looking man, with a large nose, bulging eyes, a protruding lower lip, a nervous twitch, and a speech impediment. Smith described himself as a beau in nothing but his books. Smith rarely sat for portraits, so almost all depictions of him created during his lifetime were drawn from memory.
Smith died in Panmure House in Edinburgh on 17 July 1790, after a painful illness, and was buried in the Canongate Kirkyard. On his death bed, Smith expressed disappointment that he had not achieved more. Smith requested that his personal papers be destroyed upon his death, with the exception of anything that was fit for publication. The History of Astronomy was published in 1795 and Essays on Philosophical Subjects, Lectures on Justice, Police, Revenue, and Arms, written in 1763 and published in 1896, A Treatise on Public Opulence, written in 1764 and published in 1937, were all published posthumously.
Additional Resources about Adam Smith: