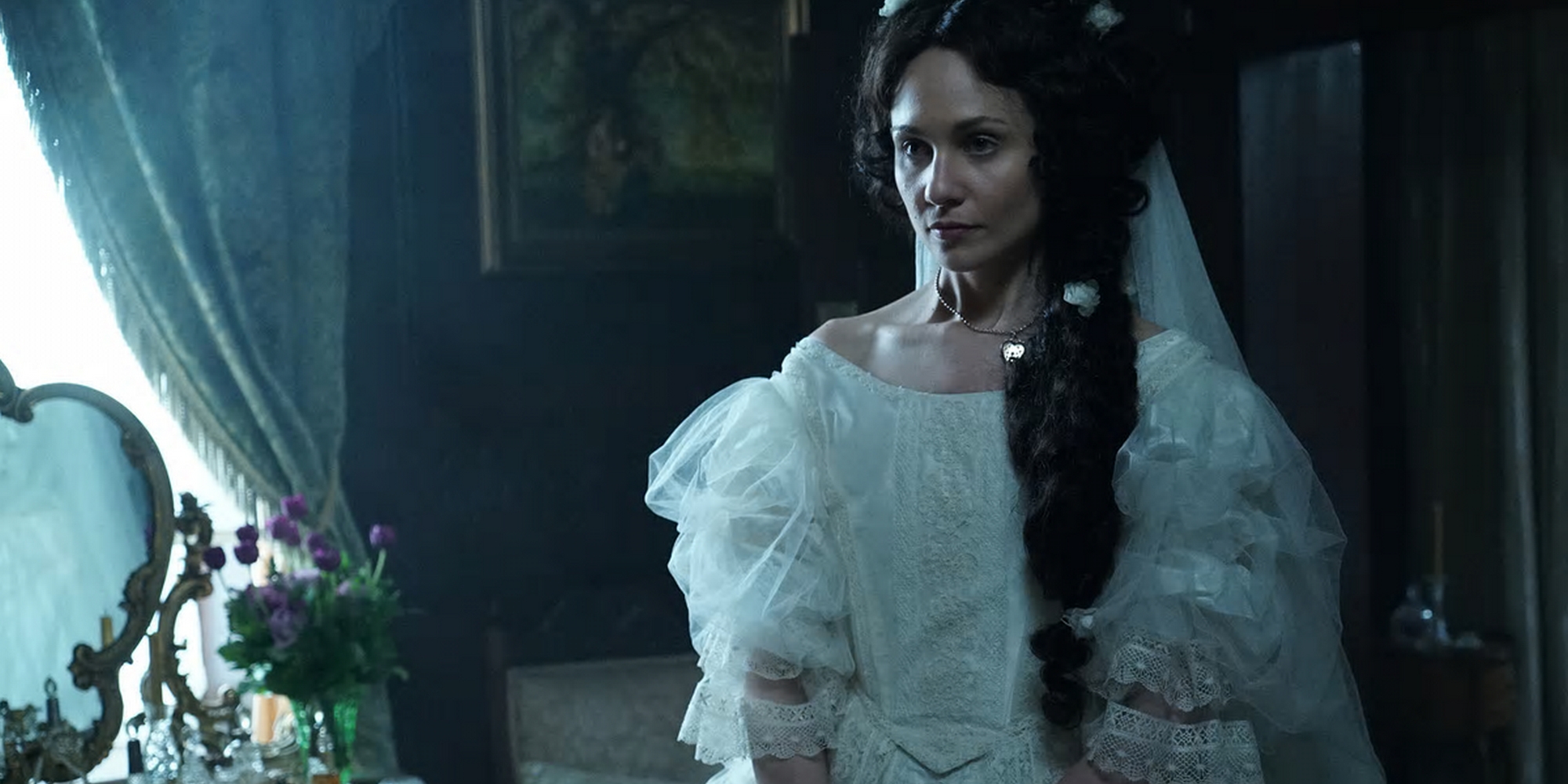 Dickensian – The Finale
Sally Minogue reflects on the series 'Dickensian' as it comes to an end.
One of the most intriguing aspects of Dickensian has been to what extent its fictional outcomes were tied to what happens in the novels. Jordan proclaimed in his adaptation that 'Everything is freed'; so I was hoping for a last-minute reprieve for Matthew Pocket and Miss Havisham's reincarnation as Mrs Amelia Pocket. But, as we now know, the series did consider itself bound by Dickens' endings. Miss Havisham duly assumed her fate surrounded by the iconic imagery of her failed wedding, wilfully embracing the enactment of her humiliation. Tom Weston-Jones' performance as Compeyson has been masterly, and here he was persuasive to the last, making even this hard-hearted viewer wonder if he had begun to love Amelia – that is until he picked up the bag containing the money. The knowledge of each other that passed between the two in their final glance was truly moving. Then there was the chilling glimpse of Bill Sikes as a murderer to come, while Nancy (touchingly played by Bethany Muir) sang sweetly of marble halls. (Was there a deliberate echo here of James Joyce's death-bound story 'Clay' in Dubliners?)
Sadly, apart from the central dramatic confrontation between Amelia and Meriwether, this final episode wasn't as convincing as some previous ones. There were too many competing ideas about how to bring things to a close while leaving an opening for a future series. It felt as though the writers had lost heart. Eastenders was dragged in too knowingly as a point of reference – Arthur Havisham steadying himself for the drop from the rooftop, while all the storylines and characters converged on the pub for a good old sing-song.
Dickensian has been a puzzle. The television audience likes to know where it is, and especially it likes to know when it is – the timing and placing of a serial drama are crucial. Yet Dickensian has hopped about in the schedules, even in its final week breaking any previous pattern by having two episodes midweek and the final reveal far too early on Sunday night. That's ok if you've got your audience hooked; but at the midway point of the series, Dickensian had fallen from its high point in the viewing figures at Christmas 2015, and didn't even appear in the top 30 in January and the first week of February 2016 (by comparison War and Peace stayed in the top 12 throughout its 6 episodes). Numbers aren't everything, but given that Dickensian often followed Eastenders on its viewing night, Tony Jordan must have been hoping to hang on to a good part of its huge audience. Certainly, reviewers reached only too easily to the Eastenders association when making their judgements.
And the comparisons are there – archetypal location, cliffhanger endings, matriarchs, two-handers, emotionally wrenching storylines, and extraordinary acting when called for. I watched the Friday (February 19th) Eastenders episode and watched the penultimate episode of Dickensian straight afterwards. Eastenders was the more gripping. It focused, as part of the BBC's 'In the Mind' week, on the character of Stacey Branning (Lacey Turner) who had been sectioned because she might have harmed her baby. Her moving struggle with herself to admit that she was still not mentally fit enough to fulfil her ideal of good motherhood resonated powerfully with an earlier episode of Dickensian where Honoria Barbary (Sophie Rundle) gave birth to her (apparently stillborn) child, aided only by her sister Frances. In both dramas the actor/mothers – powerfully but with restraint – conveyed not only their agony of loss but also their profound, distressing acceptance of the fact that nothing could be done about it. Dickensian has been punctuated by moments of dramatic emotional intensity like this, and the different mores of the Victorian age slide away as our gaze is impelled towards the human predicament.
Not that those mores have been neglected. The Guardian online reviewer, Jonathan Wright (February 12th), praised the series for its risk-taking, for covering 'murder, misery and human trafficking' in a way that many other BBC dramas have failed to do, and this before the watershed. Certainly, the dark elements in Dickens have not been avoided, and sometimes have been given fuller weight than he accorded them. It has been painful to watch Meriwether Compeyson's brutal delight in his manipulation of the young woman who still has her future before her – Amelia, not yet Miss Havisham. In Great Expectations we see the caricature that she has become, turned to stone by loss, her internal self signalled to us as readers only by the petrification of the accoutrements of her wedding day. On television, here she is in her innocence, in her youth, giving herself freely even as we viewers cry 'Don't!' This has been the series' strength, that we are accorded insight into life before the fictional characters existed. It is, yes, still a fictional life; but it feels as though we have been given a glimpse of the history that comes before history. Honoria's story is so touching because we know the cold, hard fate that awaits her as Lady Dedlock; but we know too that a grown-up Esther awaits her.
That is – if we know our Dickens. But how have these stories struck the viewer unacquainted with the novels? They'll have seen a central murder storyline led by Inspector Bucket's investigations; this is a clever device because it allows us to be led into the various strands of plot and character, and through Bucket's questioning we are given access to the characters' motivation (and sometimes their attempts to hide that motivation). Alongside that, there are two leading narratives, the main one being the Havisham plot, and the second one being the interweaving of the Barbary family's economic fortunes with their emotional fates. Then there are two subsidiary stories. Fagin, Nancy and Sikes make up the netherworld plot; when they have been absent, as in the last couple of episodes, the series has felt less rich. Counterbalancing them are the improbably happy Cratchits – except that, as Bucket has uncovered, they too have their netherworld. In all of these narratives, women figure centrally, and we are given more insight into their psychological complexity than Dickens ever allows; but these women are almost always victims (in Honoria's case, at the hands of her own sister). A key theme throughout is mistrust – or rather trust, since it is only through dramatic irony that we as viewers know how often trust has been misplaced. That has sometimes made me uncomfortable as a viewer, in the same way, that I feel uncomfortable when listening to The Archers these days. If writing is too knowing, too manipulative, it's not long before an audience knows that they are being manipulated. At least Dickens had the good writerly taste to keep the evidence of his manipulations to the end when the plot lines were tied up.
The idea behind Dickensian was a clever and brave one, and it was ambitious to take the back stories of a few key novels and expand them to create a whole new fictional world on television. But set yourself against this master storyteller at your peril. There's a bigger beast inside Dickensian, waiting to be let out: his name is Charles Dickens. And he'd have sorted out the scheduling too.