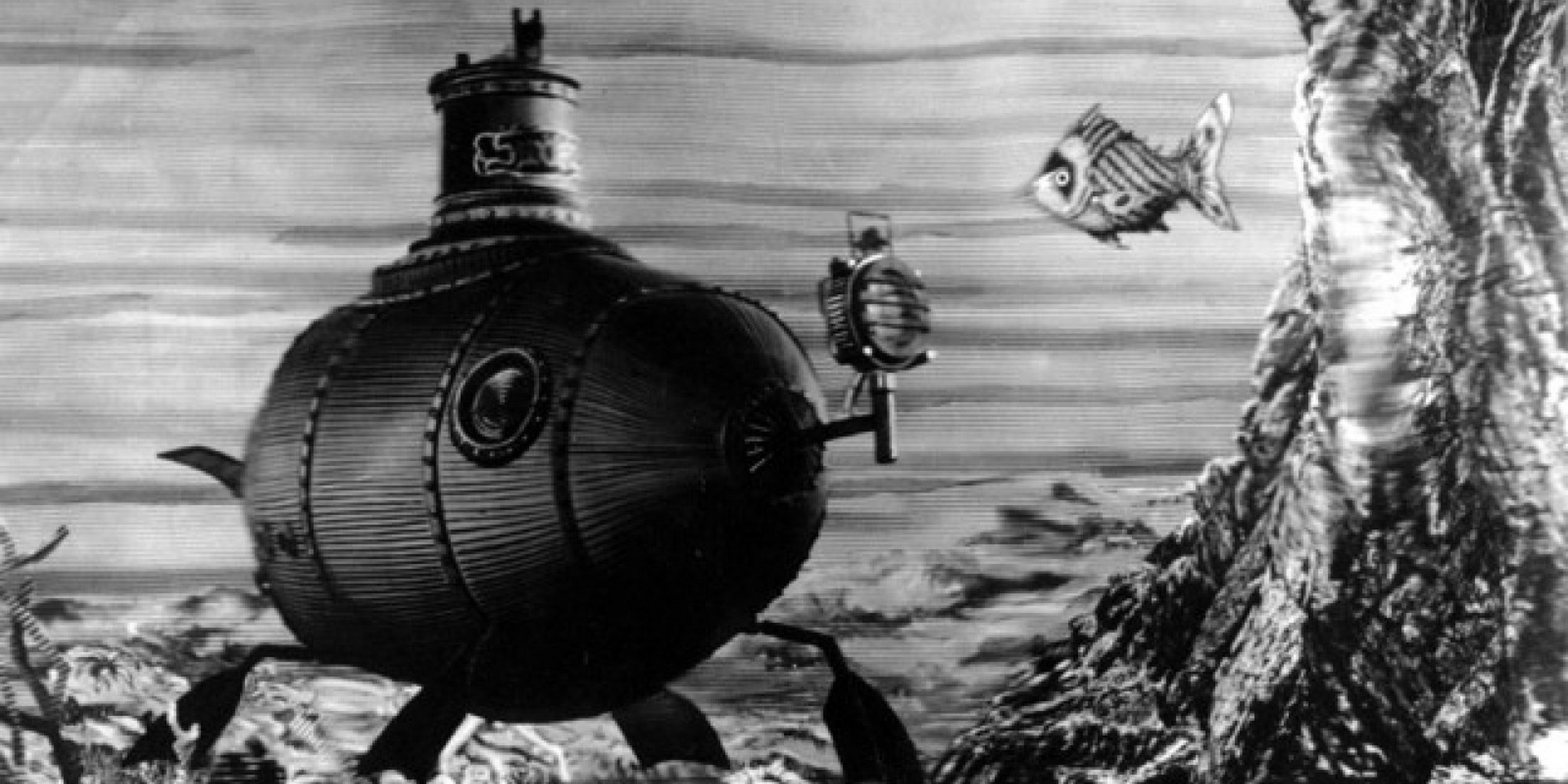 A Journey into the Imagination
David Stuart Davies writes about the fantastic tales of Jules Verne.
If imagination were a physical commodity, Jules Verne (1828 – 1905) would have had warehouses full of it. His fiction sparkles and fizzes with mind-blowing ideas, landscapes, plots and images. He remains one of the greatest of all fantasy writers and is generally regarded as the 'Father of Science Fiction' although the actual term for the genre was not coined until the early twentieth century. Verne referred to his works as 'scientific romances'. In fact, he was the first professional writer who made a good living out of creating fantastic tales.
Jules Gabriel Verne was born to bourgeois parents in Nantes, France. He was trained to follow in his father's footsteps as a lawyer but, while in Paris, instead of immersing himself in the law, Verne found himself attracted to the theatre and, after obtaining his law degree and setting up a practice in 1850, he began writing numerous plays, dramas and operettas for the Théâtre Lyrique.
His collaboration with the publisher Pierre-Jules Hetzel led to the creation of the Voyages Extraordinaires, a widely popular series of scrupulously researched adventure novels. Hetzel, already the publisher of Balzac, George Sand and Victor Hugo, had long been planning to launch a high-quality family magazine in which entertaining fiction would combine with scientific education. He saw Verne, with his wild detailed imagination, as an ideal contributor for such a magazine. Verne's first effort, Five Weeks in a Balloon, was published by Hetzel in January 1863. For the rest of his lifetime, most of Verne's novels would be serialized in Hetzel's Magasin before their appearance in book form, beginning with his second novel for Hetzel, The Adventures of Captain Hatteras (1864–65). Other titles followed including Journey to the Centre of the Earth (1864), Around the World in Eighty Days (1875) and The Mysterious Island (1874).
The relationship between publisher and writer changed significantly around 1869 when Verne and Hetzel were brought into conflict over the manuscript for Twenty Thousand Leagues Under the Sea. Verne had initially conceived the submariner Captain Nemo as a Polish scientist whose acts of vengeance were directed against the Russians who had killed his family during the January Uprising. Hetzel, not wanting to alienate the lucrative Russian market for Verne's books, demanded that Nemo be made an enemy of the slave trade, a situation that would make him an unambiguous hero. Verne, after fighting vehemently against the change, finally settled on a compromise in which Nemo's past was shrouded in mystery.
The range of Verne's books is remarkable. He wrote about space, air, and underwater travel before navigable aircraft and practical submarines were invented, and before any means of space travel had been devised.  The third in his series of novels that came to be regarded as 'Les Voyages Extraordinaires' was From the Earth to the Moon in which two Americans and a Frenchman are launched into orbit from the muzzle of an enormous gun embedded in the ground on the coast of Florida. The story has certain remarkable aspects to it. Verne attempted to do some rough calculations as to the requirements for the cannon and, considering the total lack of any data on the subject at the time, a great number of his calculations are surprisingly close to reality.  The author shows amazing prescience in some of the details in the novel.  Verne's cannon was called Columbiad and the Apollo II space mission command module was named Columbia. This was manned by three astronauts as in the novel. Verne's rocket base is in 'Tampa Town' in Florida, not many miles away from where Cape Canaveral is now located. The story is more of an adventurous romp than a gripping drama but it is a significant work in the annals of science fiction.
One example of how Verne's creative visionary mind could break through the confines of his own time is found in his novel Paris in the Twentieth Century written in 1863. It is about a young man who lives in a world of glass skyscrapers, high-speed trains, gas-powered automobiles, calculators, and a worldwide communications network, yet cannot find happiness and who comes to a tragic end. Hetzel thought the novel's pessimism would damage Verne's then-blossoming career, and suggested that he wait twenty years to publish it. Reluctantly Verne agreed, stored the manuscript away in a safe and appeared to have forgotten all about it. It was discovered by his great-grandson in 1989 and the long-lost novel was first published in 1994.
Verne remained prolific throughout the 1870s, writing The Adventures of a Special Correspondent (1872), The Survivors of the Chancellor (1875), Michael Strogoff (1876), and Dick Sand: A Captain at Fifteen (1878), among several others. After Verne's long run of personal and professional success, the 1880s proved to be less kind.
In 1886, Verne's favourite nephew, Gaston, attempted to murder him. He fired two shots from a pistol, and one stuck Verne's shin, giving him a limp for the rest of his life. Gaston turned out to be suffering from mental illness and was committed to a mental institution. A week after Verne was shot, Hetzel died—an event that devastated the author. To add to his misery, Verne's mother died the following year.
Verne did, however, continue to travel and write, and Eight Hundred Leagues on the Amazon (1881), Robur the Conqueror (1886) and Master of the World (1904) are among his later publications. In 1905, while ill with diabetes, Verne died at his home in Amiens, France.
His work continues to fascinate readers and, of course, the cinema has made full use of Verne's stories with some tales such as Journey to the Centre of the Earth and Around the World in 80 Days being filmed more than once. So many fantasy films involving weird and wonderful locations, strange encounters and exciting incidents continue to be influenced by the magic pen of this great and innovative writer.