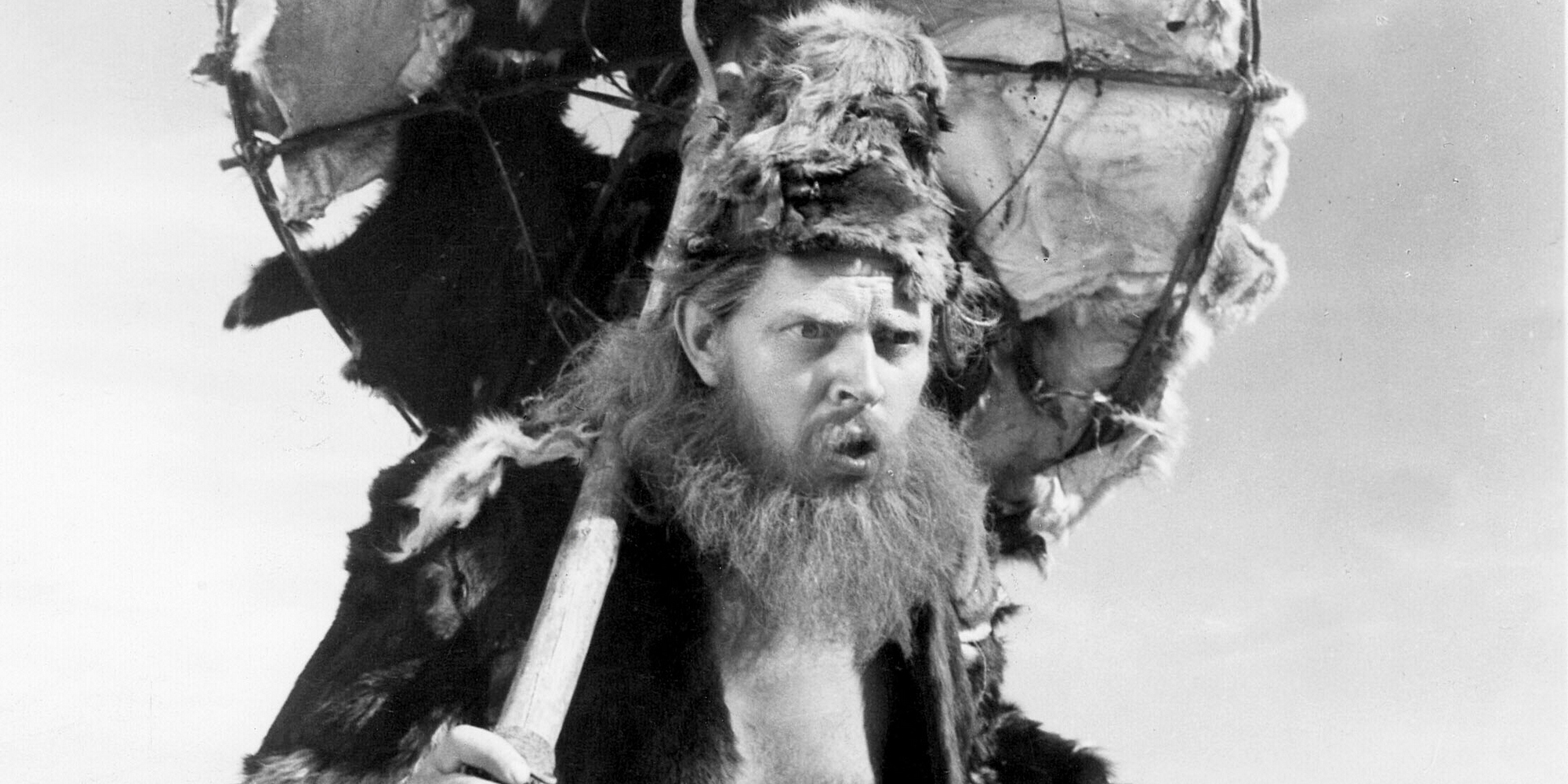 Exploring Crusoe's Adventures
The Only Man on the Island or What did Crusoe do with Friday on Saturday Night?
'It happened one day, about noon, going towards my boat, I was exceedingly surprised with the print of a man's naked foot on the shore, which was very plain to be seen on the sand'.
– Chapter 11 Robinson Crusoe
The novel Robinson Crusoe, written by Daniel Defoe, was published in April 1719. The first edition credited the work's protagonist Crusoe as its author, leading many readers at the time to believe that he was a real person and the book was an autobiography detailing true incidents.
The basic premise of the story – a man is shipwrecked on a desert island and fends for himself for many years before befriending a native whom he names Friday, and converts to Christianity – is well known, even by those who have not read the book. However, those who have dipped into its pages will know there is more to the sprawling narrative than this. Crusoe (the family name corrupted from the German name 'Kreutznaer') has other exciting adventures before he lands up on the island, including being captured by pirates and owning a plantation in Brazil. It is when Crusoe joins an expedition to bring slaves from Africa, that he is shipwrecked on an island that he calls the Island of Despair.
Despite its simple narrative style, Robinson Crusoe was well received in the literary world and is often credited as marking the beginning of realistic fiction as a literary genre. It is generally seen as a contender for the first English novel. Before the end of 1719, the book had already run through four editions, and it has gone on to become one of the most widely published books in history.
In an ancient burial ground of Burnhill Fields in the heart of London stands a simple stone shaft bearing the words: 'Daniel Defoe Born 1661 Died 1731 Author of Robinson Crusoe'. It is an epitaph which ensures the immortality of the author's name and this book. However, Robinson Crusoe is but a minute part of Defoe's total literary output for he was a prolific writer. Just how many works – pamphlets, poems, novels, histories, pseudo histories – came from his pen we shall never know, for many of his writings were published unsigned. Not only was he an avid writer but he was also a trader and acted as a spy for the British government during the time of the union between Scotland and England. Yet for all these diverse activities and his literary abundance, most readers know him only as 'Author of Robinson Crusoe'. And it is a magical and paradoxical tale that seems too strange and wonderful to be the history of an ordinary man, and yet too credible and real to be a matter of mere invention.
The main inspiration for the novel, though not its source, was probably the actual history of the Scottish mariner, Alexander Selkirk who was marooned on the island of Juan Fernandez from 1704 to 1709. Apparently, Defoe met Selkirk in Bristol after his return to England and received from him a first-hand account of his adventures which was published in 1712. Certainly, Defoe must have picked up various titbits of information concerning the role of a castaway from Selkirk, but Robinson Crusoe goes far beyond, in scope and detail, anything Defoe gleaned from Selkirk. The book has the sweep and excitement of a true novel with moral themes embedded within the narrative.
In the novel, Defoe is concerned with Man and his relation to Nature and Nature's God. The book, in part at least, is an attempt to show that Man deprived of almost all the benefits of civilisation, except, notably his religion, does not necessarily sink into that 'state of Nature' as pontificated by the philosopher Thomas Hobbes (1588 – 1679), who stated that the life of man was 'poor, nasty, brutish and short.' Crusoe rises above this and therefore the book has strong moral and religious implications woven into the story.
However, for the modern reader, the chief appeal of Robinson Crusoe lies undoubtedly in its skilful mingling of the extraordinary and the extravagant with the familiar and commonplace. For though Defoe portrays a life that is remote from anything we have actually known, in doing so he draws perceptively from the knowledge of human nature and behaviour that we not only accept every word but are convinced that all we are told is true. The novel is also exciting, full of drama and suspense. The writing is rich and has an imaginative sweep that transports the reader to the desert island and for a time we inherit Crusoe's life and we become the solitary castaway himself. To be able to bring this about is the supreme gift of a great storyteller.
The novel has spawned many imitations in film, television and radio. A pantomime adaptation of Robinson Crusoe was first staged at the Theatre Royal, Drury Lane in 1796 and a version of this seasonal entertainment still exists today. The influence of the novel on other writers is immense and the examples are too numerous and varied to list them all here but some notable ones include the novel The Swiss Family Robinson (German: Der Schweizerische Robinson) by Johann David Wyss, first published in 1812, about a Swiss family shipwrecked in the East Indies and borrowed Crusoe's first name for its title. In Treasure Island (1883), author Robert Louis Stevenson parodies Crusoe with the character of Ben Gunn, a friendly castaway who was marooned for many years, has a wild appearance, dresses entirely in goat skin and constantly talks about providence.
The cinema has feasted greatly on the book: there is a 1927 silent movie; Luis Buñuel directed Adventures of Robinson Crusoe in 1954; Walt Disney later modernised the novel as Lt. Robin Crusoe, U.S.N., featuring Dick Van Dyke; and in 1988 Aidan Quinn appeared in the film Crusoe. Variations on the theme include the 1954 Miss Robin Crusoe, with a female castaway and a female Friday and the 1964 film Robinson Crusoe on Mars, starring Paul Mantee, with an alien Friday portrayed by Victor Lundin
All these various takes on Robinson Crusoe inevitably reflect on the brilliance of the original.
Books associated with this article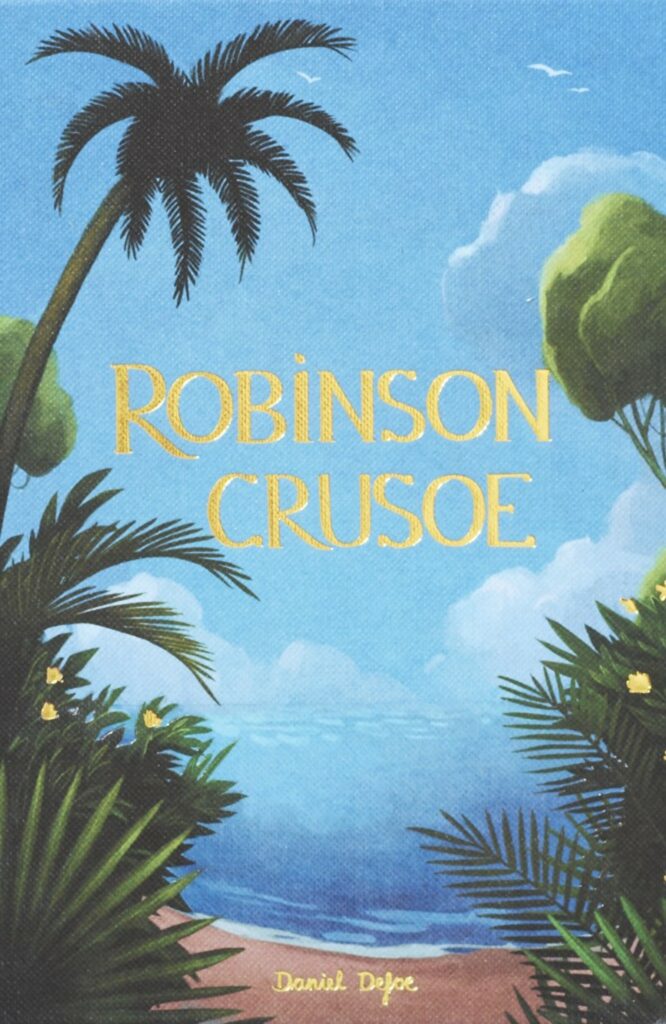 Robinson Crusoe (Collector's Edition)