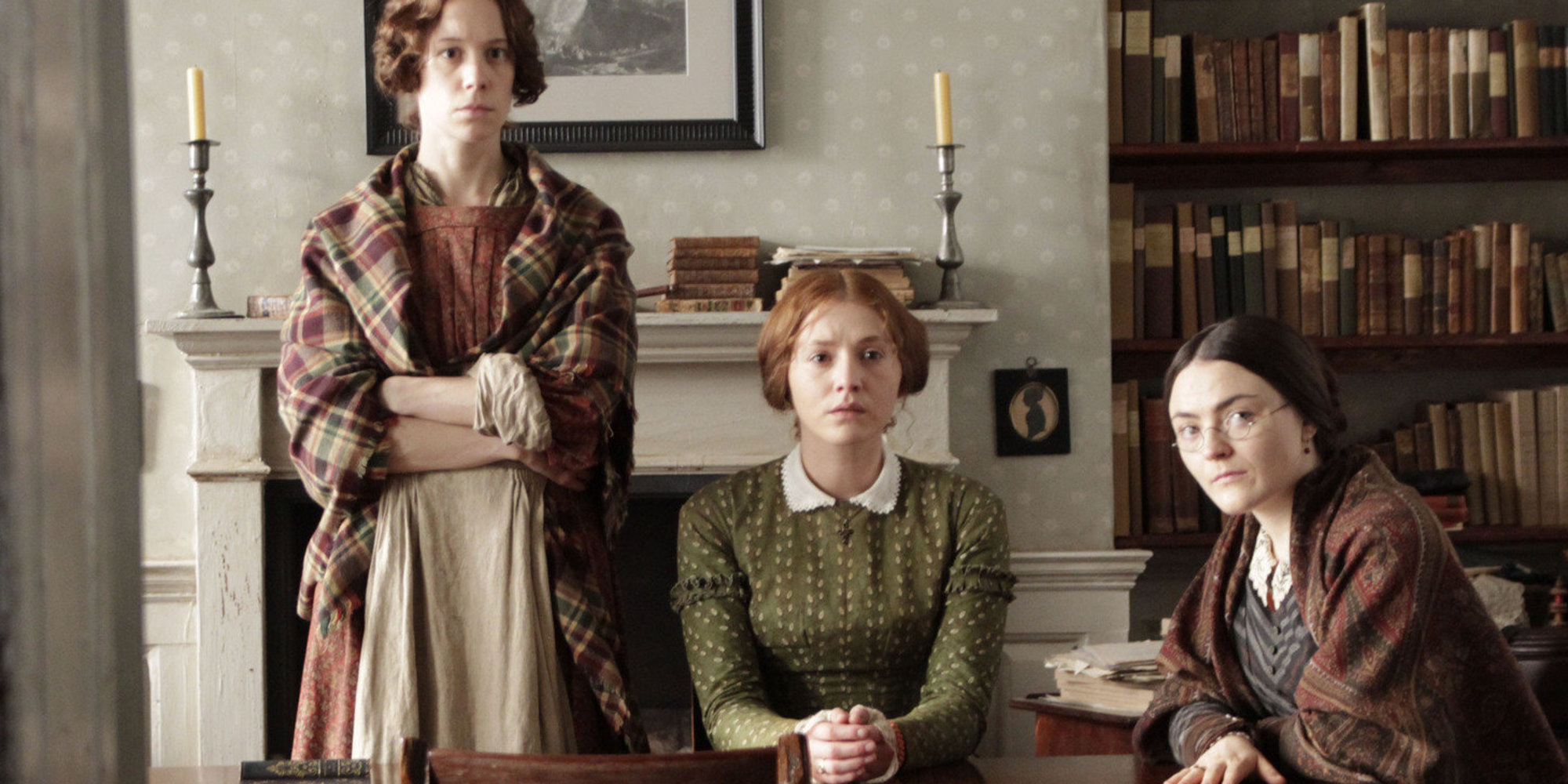 To Walk Invisible: The Brontë Sisters
Sally Minogue watches Sally Wainwright's new drama about the Brontës.
Sally Wainwright was on a hiding to nothing with this drama about the Brontës. Between the Scylla of an over-accurate account ticking all the boxes of Brontë myth, and the Charybdis of hauling them into the twentieth century as Andrew Davies might have done (shudder), she steered a narrow passage by limiting herself to three key years 1845-48, when all the siblings were together under one roof. Wainwright, highly acclaimed and accomplished television writer, has moved us and made us laugh, sometimes at the same moment, with Last Tango In Halifax. And she has disturbed and distressed us with the uncompromising Happy Valley. Yorkshire is placed centre stage in her dramas – not National Trust landscape, but real fields that people till (or anyway, drive heavy agricultural machinery through), and hard urban spaces that abut those clouded hills. As she has said herself, 'I write about what I want to write about and it tends to be women'. Stage set, then, for an original and inward take on the Brontës from someone who grew up ten miles from Haworth.
Like Wainwright, I grew up always knowing about them; somehow they were close to me (and probably to her), as a Yorkshire lass who had dreams of writing. And as I immersed myself in their works, and became professionally analytic about them, still there remained that deep inner response to them which certainly had visceral connections to a particular place and space. So I have immense sympathy with Wainwright's attempt to represent them differently, to remove them from the constrictions of period drama, to eschew the achingly familiar biographical detail, to show them as they really were. But those pesky Brontës will evade capture. And in this case, the title, To Walk Invisible, was all too accurate.
That title draws on a letter of Charlotte's, here transposed to direct speech as Charlotte counsels her sisters to 'walk invisible' as they all pursue their writing. This was indeed the lot of many female writers of the nineteenth century, including Jane Austen, but in this take on Charlotte's words, the statement was meant to be empowering rather than otherwise – to walk invisible meant to pursue one's own imaginative and creative acts whilst no-one else knew about them, perhaps necessary in a patriarchal world where female creativity might have been seen as dangerous and could be stoppered.  But that was no reason to pass over the act of writing for a twenty-first-century audience. Whatever else these three remarkable sisters were doing (which seems to have included scrubbing the yard and regularly cleaning up Branwell, as well as striding the moors in remarkably clean, neat and colourful frocks) – they were WRITING. Writing novels in longhand takes considerable time, and good light – not to mention imagination, daring and self-belief. While the sisters indeed had to be secretive about their writing, nonetheless they also had to be doing it. This was the period in which Jane Eyre, Wuthering Heights and Agnes Grey were written and published, and when Anne was working on her second novel, The Tenant of Wildfell Hall. Yet when the novels were mentioned, it seemed as though they had sprung fully formed from nowhere. Aside from the sideways reference to purchasing lots of paper from the local bookseller, the average viewer would hardly have picked up the fact that the dining room of Haworth Parsonage had at this time, as Claire Harman puts it, 'turned into something like a book factory, as the sisters paced around the table, reading, listening and discussing each other's work, and sat bent over their portable desks for hours, writing' (an image already well-documented in Elizabeth Gaskell's early biography of Charlotte).
Meanwhile, great swathes of valuable television drama time were given over to Branwell as he careered hopelessly from one self-immolatory act to another. The sisters would dutifully put him on his feet, and then off he'd go again. There were interesting insights to be had here about the difficulty of being an ineffectual male in nineteenth-century society (the engaging but ultimately powerless father Patrick coming under this banner, as well as his son). Branwell lacked occupation; and when he had it, he ruined it by becoming emotionally (and no doubt physically) entangled with his employer's wife.   Charlotte, Anne and Emily, as unmarried women, had to find occupation, in Charlotte and Anne's cases being governesses or teachers, and perhaps the hatefulness of that led to their finding a creative outlet in writing. Unintended consequences: Branwell, on whom all expectations lay, could find nothing in himself and was laid waste by that, while Charlotte and Emily, with their burdens of domestic care or work on the precarious margins of their own social circles, produced those iconic novels of the nineteenth century, Jane Eyre and Wuthering Heights.
To Walk Invisible was a great disappointment because it promised so much. A luxurious two hours of prime time television drama, in the Christmas period (and so the promise of a big audience), devoted to three women writers of the nineteenth century – not your normal tv subject matter. But instead, we had the Branwell show. Perhaps this reflected the patriarchal values of the time; perhaps Wainwright wanted to suggest that women have the last laugh – theirs are the novels we read, after all. Certainly, she wanted to concentrate on the three-year period of time in which the three sisters shared their writing ambitions and brought them to some fruition. But for anyone new to the Brontë story or the Brontë novels (and there might have been many of those following Wainwright from her other television successes) this would have been a confusing narrative – the very last thing any of those three highly accomplished writers would have given us.
All the Brontë novels are published by Wordsworth Editions.
Claire Harman, Charlotte Bronte: A Fiery Heart, Knopf Doubleday, 2016
Books associated with this article