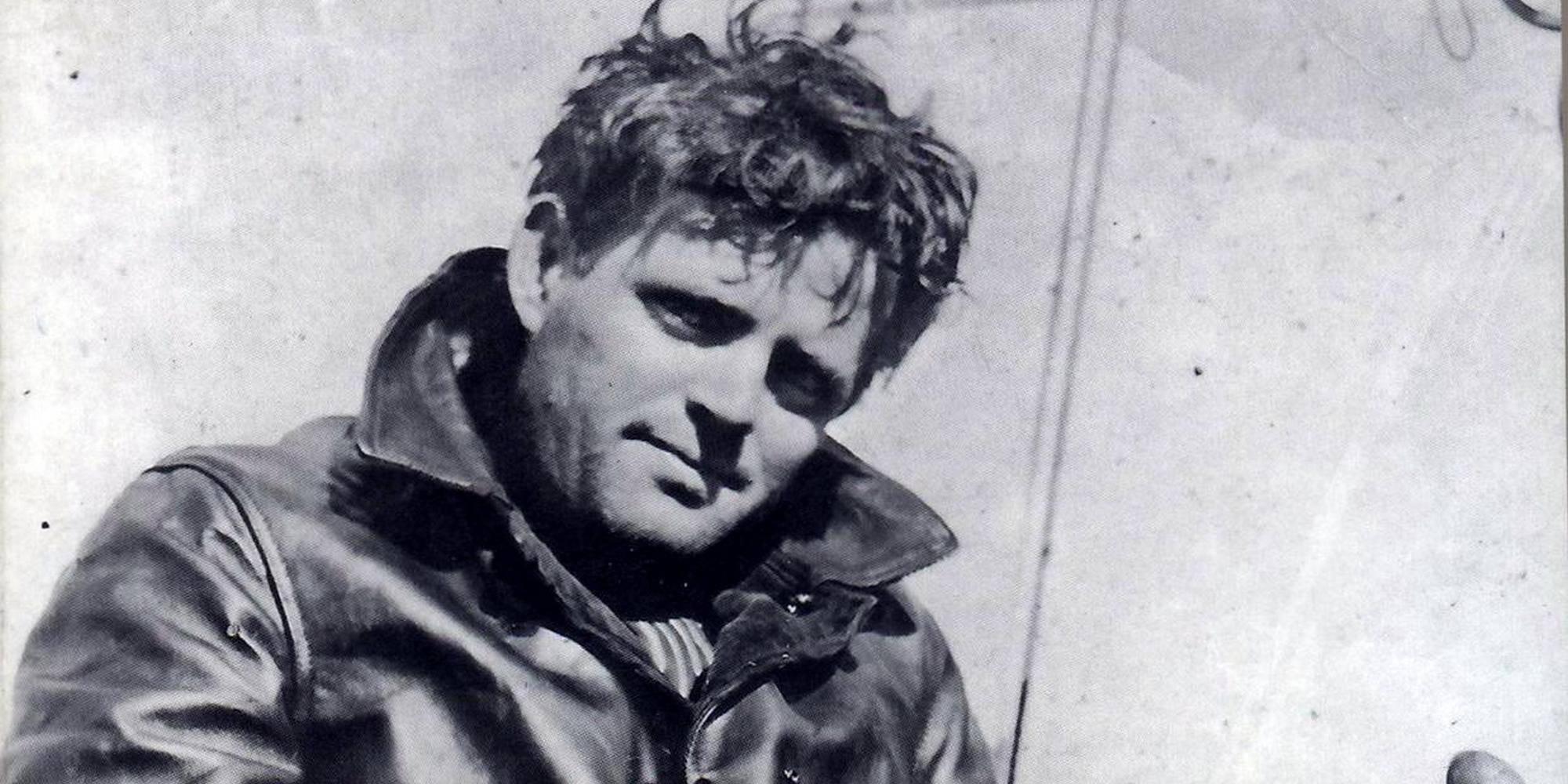 'You can't wait for inspiration. You have to go after it with a club.'
On the centenary of Jack London's death, David Stuart Davies considers his life and work.
Jack London is best remembered today for his raw and extremely dramatic stories set in the untamed regions of the Americas in the latter part of the nineteenth century. Typical of these and perhaps his most popular yarn was The Call of the Wild (1903), a short adventure novel set in Yukon, Canada during Klondike Gold Rush of the 1890s, when strong sled dogs were in high demand. The central character of the novel is a dog named Buck who is stolen from his home in California and sold into service as a sled dog in Alaska. The hound becomes progressively feral in the harsh environment, where he is forced to fight to survive and dominate other dogs. By the end, he sheds any veneer of civilization, and relies on primordial instinct and learned experience to emerge as a leader in the wild. Similarly, another of London's best efforts, White Fang (1906), also features a canine as his central character. This time, the creature, White Fang, is a ferocious and wild wolf dog.  The novel, also set in the Yukon, presents a mirrored reversal of Buck's transition in that it charts White Fang's journey to domestication. Much of White Fang is written from the viewpoint of the titular character, enabling London to explore how animals view their world and how they perceive humans. It is a fascinating and engaging narrative and has been adapted for the screen numerous times, including a 1991 film starring Ethan Hawke.
However, writing such tales was only one of the many strings to Jack London's bow. He led a very full life. He was born in California in 1876 and had a tough working-class childhood. The teenage London entertained himself with a series of exciting exploits: he rode trains, dived for oysters, shovelled coal and worked in a cannery. In his free time, he haunted libraries soaking up adventure novels and travel books.
His life as a writer began in 1893. That year, seeking adventure, he embarked on a harrowing seal-hunting expedition, one in which a typhoon had nearly wrecked the ship.  On returning home he regaled his mother with a dramatic account of the voyage. She encouraged her son to submit his story for a writing contest in a local paper.  He won first prize which was pivotal in his decision to become a full-time writer. It was hard going at first but in 1899 he began publishing stories in the magazine Overland Monthly. The experience of creating fiction and getting published regularly greatly disciplined London as a writer. From that time forward, London made it a practice to pen at least a thousand words a day. However, he struggled at first to make a living as a writer and at one point headed up to the Yukon to seek his fortune in the goldfields. Instead, he found rich material for his stories. His experiences in the Yukon had convinced him he had tales that he could tell. In addition, his own poverty and that of the struggling men and women he encountered there caused him to embrace socialism, a doctrine he stayed committed to all his life.
London eventually found fame and some fortune at the age of 27 with his novel The Call of the Wild (1903). However, he also worked as a journalist seeking challenging and adventurous assignments. He covered the Russo-Japanese War in 1904 for Hearst papers, and after visiting Hawaii he introduced American readers to the sport of surfing. He seemed to thrive on this pressured lifestyle.
He was a prolific writer, publishing more than fifty books over the last sixteen years of his life. The titles included The People of the Abyss (1903), which offered a scathing critique of capitalism, John Barleycorn (1913), a memoir of sorts that detailed his lifelong battle with alcohol, and perhaps his best novel, The Sea-Wolf (1904), a psychological adventure in which the central character, Humphrey van Weyden, a survivor of an ocean collision, falls under the dominance of Wolf Larsen, the powerful and amoral sea captain who rescues him. Ambrose Bierce wrote, 'The great thing – and it is among the greatest of things – is that tremendous creation, Wolf Larsen… the hewing out and setting up of such a figure is enough for a man to do in one lifetime.'  Larson was played memorably by Edward G. Robinson in the 1940 movie version of the novel.
Jack London was one of the most romantic figures of this time.  Strikingly handsome, full of laughter, restless and courageous, he was always eager for adventure.  An eloquent public speaker, he was much sought after as a lecturer on socialism and other economic and political topics. Most people considered London a living symbol of rugged individualism. He ascribed his worldwide literary success largely to hard work – to 'dig', as he put it.   In addition to his writing and speaking commitments, London conducted voluminous correspondence (he received some 10,000 letters per year), read proofs of his work as it went to press, and negotiated with his agents and publishers.  He spent time overseeing the construction of his custom-built sailing ship, the Snark, (1906-1907) and the building of his dream house in 1911. London wrote so many books about wolves and dogs that his friend George Sterling gave him the nickname 'The Wolf' and so it was only fitting that he would call his ranch the 'Wolf House'. Sadly he was never to live in it. Shortly after its construction, it burnt down. The loss of Wolf House was a crushing financial blow which left London depressed but he forced himself to return to work with added vigour which eventually affected his health.   For much of the last decade of his life, London faced a number of medical issues, including kidney disease, the cause of his death. He died at his California ranch in November 1916. He was only 40.  Ernest Hopkins reported his death in the San Francisco Bulletin, stating, 'No writer, unless it were Mark Twain, ever had a more romantic life than Jack London.  The untimely death of this most popular of American fictionists has profoundly shocked a world that expected him to live and work for many years longer.'
Books associated with this article