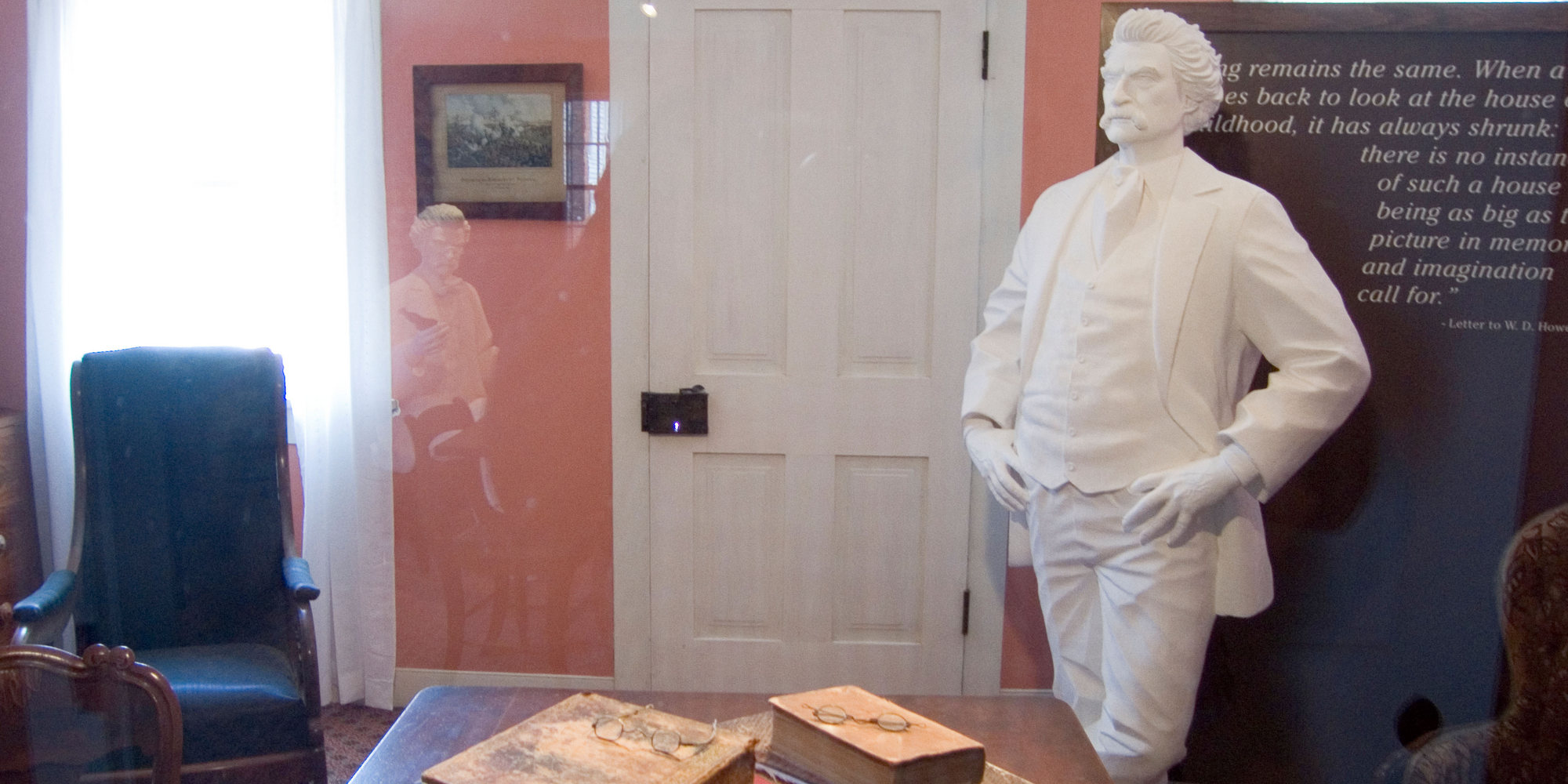 Mark Twain
David Stuart Davies looks at the man that William Faulkner described as 'The father of America Literature'
'All American Literature comes from Mark Twain.' Ernest Hemingway
Samuel Langhorne Clemens wrote two of the most famous and successful American novels of the nineteenth century: The Adventures of Tom Sawyer and The Adventures of Huckleberry Finn. Clemens, of course, is better known by his pseudonym, Mark Twain, which he maintained came from his years working on Mississippi riverboats. The riverboatman's cry was 'mark twain' or, more fully, 'by the mark twain', meaning that the mark on the line indicated a depth of two fathoms.
Twain was born in Missouri in 1835. In his youth he became a riverboat pilot on the Mississippi River and then, after an unsuccessful attempt at mining, he turned his talents to journalism. His humorous short story, 'The Celebrated Jumping Frog of Calaveras County', published in 1865, brought international attention and set him on the road to a successful career as a writer. Twain's wit and satire, in prose and in speech, earned praise from both critics and fellow authors.
His first best-selling novel was The Innocents Abroad (1869), which humorously chronicles what Twain called his 'Great Pleasure Excursion' on board the chartered vessel Quaker City through Europe and the Holy Land with a group of American travellers. This secured his position as one of the most popular American authors of his day and was the springboard for a further twenty-seven books and a vast number of stories, essays and lectures.
However, his enduring fame rests on the Sawyer and Finn novels. The Adventures of Tom Sawyer is an 1876 novel about a young boy growing up along the Mississippi River. It is set in the 1840s in the fictional town of St. Petersburg, inspired by Hannibal, Missouri, where Twain lived as a boy. In the novel, Tom is often in trouble at school and at home. Late one night, Tom sneaks out with his friend Huckleberry Finn, and the two witnesses a violent crime. Afraid for their own safety, Tom and Huck promise each other to keep what they saw a secret, and Tom carries on his usual activities: playing pirates with his friends, flirting with the pretty Becky Thatcher, and worrying his Aunt Polly. But Tom and Huck soon find themselves in serious trouble, because they can't ignore their consciences or the fact that the criminal has some treasure they are unable to resist. This synopsis sounds simple but it is what Twain was able to do with this concept that makes the novel remarkable. The narrative glows with nostalgia for the Mississippi River towns of his youth and sparkles with his famous humour, but it is also woven throughout with a subtle awareness of the injustices, racism and complexities of the old South that Twain so memorably portrays. Originally a commercial failure, the book ended up being the bestselling of any of Twain's works during his lifetime.
The continuing popularity of the novel is reflected in the many films (the first in 1917) and theatrical versions, including a musical, an animated feature and even an action-platformer for Nintendo.
The Adventures of Huckleberry Finn (1884) is a direct sequel to Tom Sawyer and is regarded as one of the Great American Novels. It is told in the first person by 'Huck' Finn, a boy of about twelve who escapes from his alcoholic father by faking his own death and so begins his journey through the Deep South, seeking independence and freedom. On his travels, Huck meets an escaped slave, Jim, who is a wanted man, and together they journey down the Mississippi River on a raft. Their travels raise the timeless and universal issues of prejudice, bravery and hope. This was also a book that was able to capture the vernacular speech of the different classes existing along the Mississippi. Twain was the first person to put this kind of colourful vocabulary into American writing.
In his autobiography Twain mentions his childhood friend Tom Blankenship as the inspiration for creating the character:
'In Huckleberry Finn, I have drawn Tom Blankenship exactly as he was. He was ignorant, unwashed, insufficiently fed; but he had as good a heart as ever any boy had. His liberties were totally unrestricted. He was the only really independent person—boy or man—in the community, and by consequence, he was tranquilly and continuously happy and envied by the rest of us. And as his society was forbidden us by our parents the prohibition trebled and quadrupled its value, and therefore we sought and got more of his society than any other boy's.'
This novel has also received many dramatic interpretations: numerous movies including a musical as well as German and Russian feature films which indicate the universal appeal of the story and the character.
Skilful as he was as a writer, Twain was less adept at handling his own finances. Between 1880 and 1894 he lost the bulk of his writing profits through ill-advised investments. To keep himself financially afloat he began a series of lecture tours. He was soon in great demand as a featured speaker, performing solo humorous presentations similar to modern stand-up comedy. He gave paid talks to many men's clubs. In the late 1890s, he even spoke to the Savage Club in London and was elected an honorary member. He was told that only three men had been so honoured, including the Prince of Wales, and he replied: 'Well, it must make the Prince feel mighty fine.'
In his last fifteen years, Mark Twain was probably the most celebrated American around the world, collecting honorary degrees from both Yale and Oxford Universities. He was born two weeks after Halley's Comet's closest approach in 1835 and he said in 1909:
'I came in with Halley's Comet in 1835. It is coming again next year, and I expect to go out with it. It will be the greatest disappointment of my life if I don't go out with Halley's Comet. The Almighty has said, no doubt: 'Now here are these two unaccountable freaks; they came in together, they must go out together.''
Twain's prediction was accurate; he died of a heart attack on 21 April 1910. Mark Twain is a towering figure in American literature because he is funny, perceptive and smart and had a willingness to shoot arrows at the most powerful. His writings have such a richness and style that they remain relevant and eminently readable today.
Image: Mark Twain's childhood home in Hannibal, Missouri. Credit: Edwin Remsberg / Alamy Stock Photo
Books associated with this article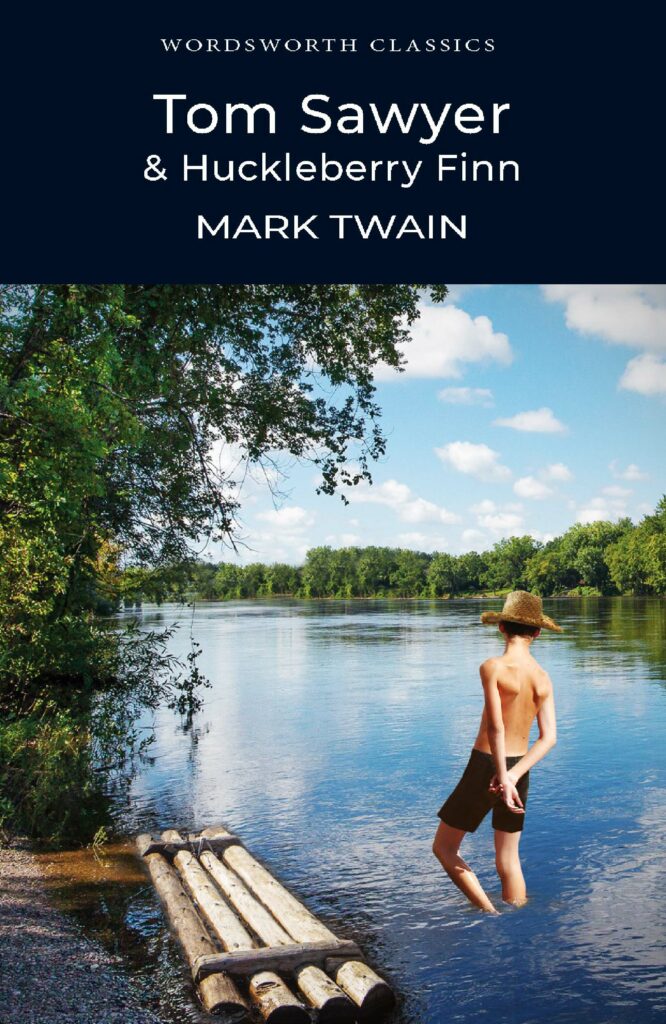 Tom Sawyer & Huckleberry Finn