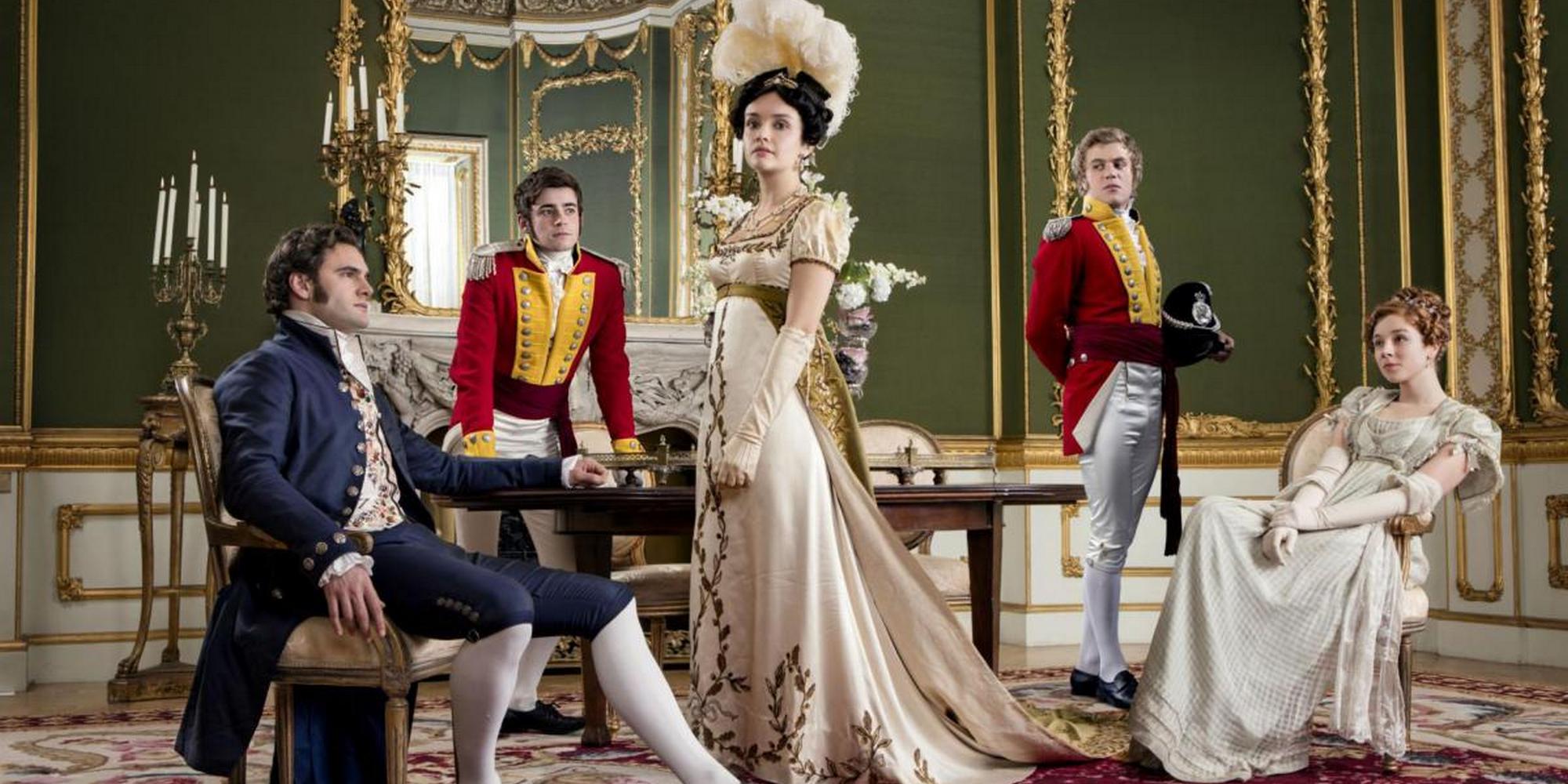 David Stuart Davies looks at Vanity Fair
David Stuart Davies looks at the latest TV adaptation of Thackeray's classic novel.
[Warning: Contains references to events within the book]
'The philosophy inherent in the novel and what I call the yogic question Thackeray posed—'Which of us is happy in this world? Which of us has his desire? or, having it, is satisfied?'—is a timeless one, as much of a mystery today as it was in 1848.' – Julian Fellowes, who adapted the novel for the screen in 2004.
Vanity Fair by William Makepeace Thackeray (1811- 1863) is a rumbustious extravaganza of a novel, surreal, and satirical, providing an insightful view of life and manners in the Georgian Age. It lampoons the foolishness of the higher echelons of society in Regency England that had grown fat and corrupt on easy prosperity.
The story centres on the entertaining little minx, Becky Sharp, one of the great strong women in literature. She is an adventuress, capable of brilliant improvisation; when intrigue and sharp wit fail her in her materialistic designs, she does not hesitate to throw in her reserves of feminine charm and facile use of her sex. While Thackeray's narrator takes pains to expose Becky's subterfuges and to insinuate sexual immorality and even murder, we cannot help but admire her intelligence and élan. Alone among the novel's major characters, she is not content to live out the life she was born into—that of a governess.
Thackeray juxtaposes Becky's story with that of Amelia Sedley, the naïve, sentimental daughter of a wealthy merchant who goes bankrupt partway through the book. She is a golden child but a terrible judge of character. Her artless modesty and devotion to her first love, the good-for-nothing George Osborne, contrast sharply with Becky's amoral machinations and social climbing. Becky's progress in society enables her to marry the wealthy Rawdon Crawley whose inheritance she quickly loses for him.
Thackeray was highly conscious of his reading audience and repeatedly breaks off from his story to buttonhole and tease his readers ('the present chapter (8), is very mild. Others – but we will not anticipate those'). The tale, however, will not be denied for long. Upwardly mobile Becky Sharp, and her sweet, devoted friend, Amelia, are perfectly matched by the caddish rake, George Osborne, and clumsy, decent William Dobbin. The social trajectory of each pair gives the narrative an almost perfect symmetry.
Events of historical significance are a backdrop for Becky Sharp's climb through society. In Brussels, while other female characters are praying for their husbands fighting at Waterloo, Becky takes advantage of the chaos, selling her husband's horses to those who believe Napoleon might beat Wellington and pillage the city. Indeed, the climax of the novel comes with the battle of Waterloo, an event which would still be fresh in the minds of contemporary readers. One recent review of Vanity Fair observed that, 'It's like War and Peace, yet far funnier.'
The novel was first published as a 19-volume monthly serial carrying the subtitle Pen and Pencil Sketches of English Society from 1847 to 1848, which included many illustrations drawn by Thackeray to accompany the text. It was published as a single volume in 1848 with the subtitle A Novel without a Hero, reflecting Thackeray's interest in deconstructing his era's conventions regarding literary heroism. In one sense Becky Sharpe can be regarded as an 'anti-hero' while some readers maintain that Dobbin in his actions reveals that he is in fact a hero.
In The Longman Companion to Victorian Fiction, John Sutherland maintains that Vanity Fair can be considered the 'principal founder' of the Victorian domestic novel. The book's title comes from John Bunyan's Pilgrim's Progress, first published in 1678. In that work, 'Vanity Fair' refers to a stop along the pilgrim's route: a never-ending fair held in a town called Vanity, which is meant to represent man's sinful attachment to worldly things. Although Thackeray makes no reference to Bunyan in his text, he assumed his readers would be aware of the allegory.
The comical and surreal nature of the novel is emphasised in its preface and coda which presents the story as a puppet show taking place at a fair; the cover illustration of the serial instalments was not of the characters but of a troupe of comic actors at Speakers' Corner in Hyde Park. The narrator, variously a show manager or writer, appears at times within the work itself and is highly unreliable, repeating a tale of gossip at second or third hand.
Critics hailed the work as a literary treasure before the last part of the serial was published and it remains a very popular and respected novel. In 2003, Vanity Fair was listed at No. 122 on the BBC's The Big Read poll of the UK's best-loved books.
The colourful canvas of the narrative with its array of intriguing and entertaining characters has made the novel the source of many kinds of dramatisations. It was, for example, filmed four times as a silent movie in 1911, 1915, 1922 and 1923. The first sound film appeared in 1932 starring Myrna Loy. It was considered a landmark in cinema as the first feature to use the newly developed three-strip Technicolor production. However, when American television got their hands on the novel in 2004 for a mini-series they tampered with it so that Reese Witherspoon as Becky Sharp becomes as a sympathetic character whose faults are 'understandable'.
The BBC has produced five versions of the story from 1956 to 1998. Susan Hampshire, fresh from her success in the role of Fleur in The Forsyte Saga took on the role of Becky in 1967. When this series was later televised in the States in 1973 Hampshire won an Emmy for 'Outstanding Continued Performance by an Actress in a Leading Role'. The 1998 series starring Natasha Little also gained a set of awards as well as being nominated for a BAFTA for Best Drama Serial and Best Actress.
In 2018 it is ITV's turn to have a go at Thackeray's masterpiece. This extravagant seven-part serial is set to be one of the must-see productions of the autumn. Although executive producer Damien Timmer had promised that screenwriter Gwyneth Hughes's version has remained true to the spirit of the book, he did add that the soundtrack features songs by Madonna and Bob Dylan. 'It has to be accessible and entertaining for a modern audience, he added. The serial features a raft of familiar TV faces including Martin Clunes, Frances De La Tour, Suranne Jones, Simon Russell Beale and Michael Palin, with Olivia Cook as Becky. This production just goes to show that the novel remains as vibrant, fresh, relevant and appealing as it was when it was first published.
Books associated with this article